Projects
The Greenshop
Bisley, Gloucestershire
Commercial
New low energy sustainable infill building to display ecological building materials & techniques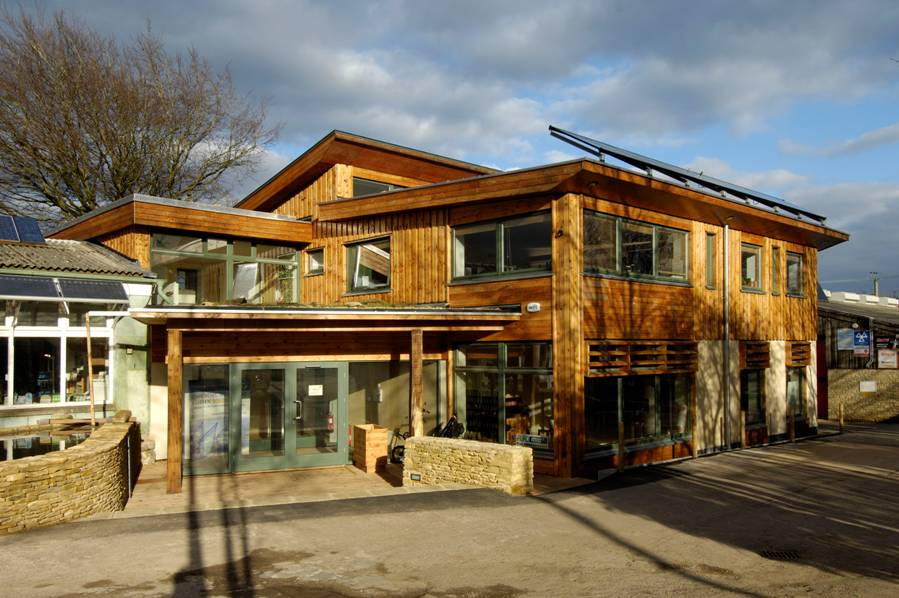 Potter Church & Holmes acted as the executive architects to the concept architects, Architype.
The primary intention for this project was to build an entirely sustainable, carbon zero 'eco-building' which demonstrates many of the sustainable products sold by The Greenshop Group.
The structure of the building is a highly insulated timber frame, insulated in Warmcel recycled newspaper insulation to the exterior walls, and Thermafleece sheep's wool insulation to the interior walls.
A variety of sustainable and environmentally friendly products were used in the building; for example, the flooring was a combination of recycled car-tyre entrance matting, oak boards and bamboo flooring and Marmoleum (linoleum which is a mixture of flax, chalk and linseed oil).
The building encompasses two brown roofs and a green roof, intended to absorb storm water and provide a wildlife habitat, and a steel north roof to aid water run-off for rainwater harvesting, which covers 50% of the total water consumption.
As well as low-energy lighting which reduce energy consumption, means of generating sustainable energy were installed in the build, including solar thermal panels on the south and east walls and a log boiler connecting to a Consolar thermal store to provide energy for the underfloor heating and hot water, and photovoltaic panels at a 30 degree angle on the south facing roof to contribute to the building's electricity consumption.
The exterior is clad in local Douglas Fir to the upper parts of the walls, and rendered in Lime to the lower part.
New low energy sustainable infill building to display ecological building materials & techniques
Project details
Client
The Greenshop Group
Start date
2006
Completion date
2007
Construction cost
£700,000