Projects
Old Chapel Cohousing
Stroud, Gloucestershire
Residential
The first co-flats scheme in the UK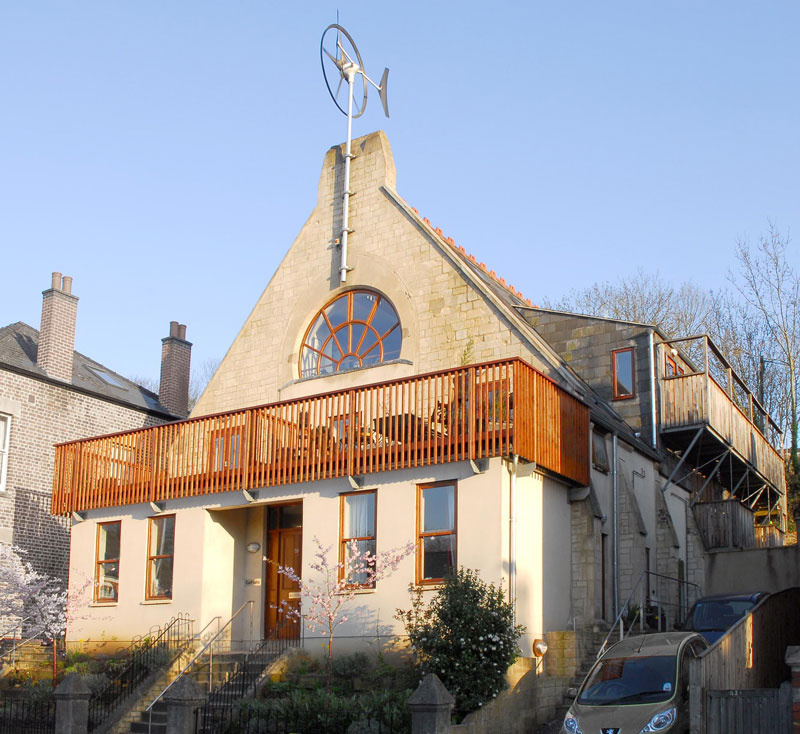 The Old Chapel project is the first co-flats scheme in the UK. Based on the Danish model, cohousing is a form of collaborative housing that aims to create a real sense of community. The scheme comprises 14 flats with a shared 'common flat'.
The previously vast open spaces of the chapel have been in filled with a complex timber structure to create the units. The layout of the scheme achieves extremely low heat loss from each unit.
There is an electric car owned communally to the scheme whose batteries are recharged by power from the wind turbine on the front elevation. At the rear there is a covered bicycle store and communal landscaped sitting areas.
The first co-flats scheme in the UK
Project details
Client
The Cohousing Company Ltd
Start date
November 2006
Completion date
May 2007
Gross Internal Floor Area
600sqm
Construction cost
£750,000
Project partners
TADCL Construction Ltd
E&M West
"Potter Church & Holmes have worked on a variety of projects for me. They produced innovative, well thought-out designs, making the most of the space available, for competitive prices. The team worked efficiently to produce high quality buildings, and put great consideration into ways of making the final product sustainable and ecologically friendly."
David Michael, client