Projects
Knowle Cottage
Cranham
Low energy, New Build, Residential
New low energy family home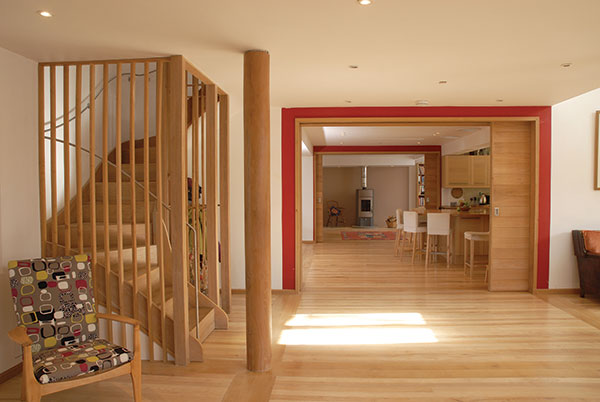 Knowle Cottage is a further development of Dykewood (link to project page) from ecological and energy sustainable points of view, and is also designed and built to meet the Government's 2016 Standards.
The walls are insulated with 400mm insulation in both the roof and walls and there is a sufficiently large array of solar thermal panels to provide not only hot water but also to assist with heating through into the winter months.
Planning restrictions led to a traditional centre ridge design, further developing the plan which started at May Lane, with a completely open plan ground floor sub-dividable with a series of sliding oak doors and a separated sun-room which is outside the primary thermal enclosure.
The house has 7 bedrooms including a master suite.
There are balconies from the first floor at the back of the house which give both amenity and solar shading, and an awning has been fixed to give solar shading to the garden in the height of summer to create a safe, cool area to sit out in the sunniest of weather.
The exterior is partially clad with Oak boarding and partially rendered with Lime; the roof is tiled with reconstituted stone.
New low energy family home
Project details