Projects
Eastington Community Centre
Eastington, Gloucestershire
Community
New low energy community centre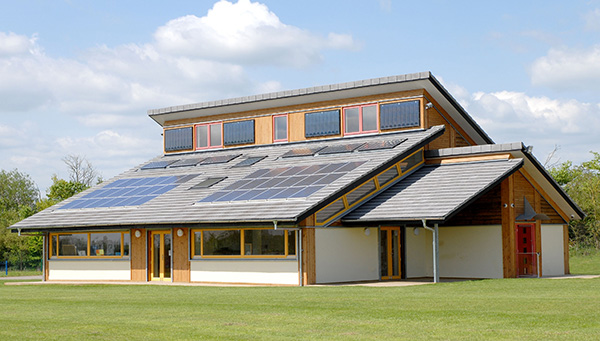 Eastington Community Centre is an all-inclusive building providing accommodation for a daily playgroup and other user groups with the added facilities of sports changing rooms and meeting rooms. It was completed working to a tight budget financed by a combination of fundraising, charitable organizations and larger funding programmes.
The new building is a spacious, flexible new-build designed with a sophisticated environmental strategy. Eastington has a south sloping roof to allow maximum solar gain through the Solar Thermal and PV panels whilst creating deep overhangs to reduce solar gain to the building in the summer; the construction is a combination of highly insulated timber framed roof and steel framed masonry structure.  The plan was devised to place the most frequently used main hall to the south side of the building, as part of a square plan which minimises heat loss whilst allowing to the Cotswold Escarpment beyond.
New low energy community centre
Project details
Completion date
2009
Construction cost
£500,000
"Potter Church & Holmes provided us with a very thorough service, from initial design to completion of the build, offering a unique design to meet the requirements we specified at the start of the project.  They worked well with our community group to discuss a variety of options, and communicated well with everyone on the team.
They remained understanding of our difficulty in finding funds and considered this in both time scale and the financial arrangements. We are delighted with the final result; an energy efficient, sustainable, eye-catching building which will be enjoyed by a wide variety of the local community"
Mark Cousins, Chair of Building Committee