Projects
Dykewood
Chepstow
Low energy, New Build, Residential
A carbon zero, wheelchair accessible home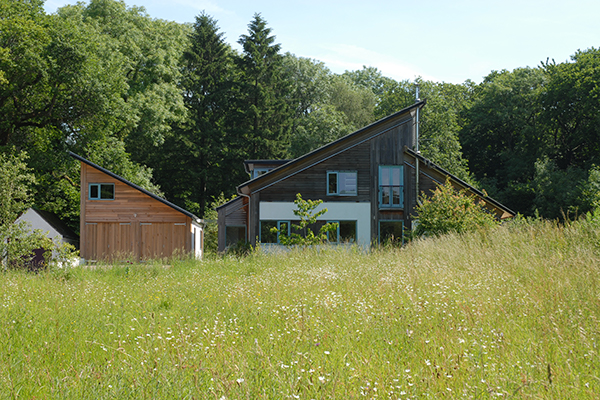 The client's desire was to meet the government's carbon zero standard that were targeted for 2016 at the time of construction – 2005. The client achieved their ambition; sadly the government stepped back from its 2016 targets.
The house styling, "contemporary" at the time of its design, replaced wooden dormer bungalow built in the 1920's with little or no insulation. A key aspect of the brief was that the ground floor of the house should be fully wheelchair accessible and a well insulated warm house was a key aspect of the brief; the wheelchair user in the family had often suffered the cold of the earlier building.. The ground floor of the house was therefore the larger This appearance was possible as the site was within an area where the planners were less strict.
The house was designed to maximise south facing roof sloping in order to heighten the effectiveness of Solar Thermal and Photovoltaic (PV) Panels and the majority of window area was kept to the south side of the house to maximise passive solar gain and reduce heat loss.
The structure used in the build was timber frame, with 300mm insulation zone in the walls 400mm in the roof and this space was fully-filled with recycled newspaper insulation. The floor was insulated with 200mm rigid insulation and a high level of air-tightness was achieved. The house incorporates various methods of reducing non-sustainable energy consumption; heating and hot water are supplied by a combination of solar thermal panels, a wood burning boiler and providing energy to a 1000L thermal store with an air source heat pump back-up. PV panels provide sustainable electricity to the house. Grey water re-use was also installed, reducing water consumption.
A garage double has recently been added in the same design style, and whose roof covering is entirely photovoltaic panels which provide a further 8Kva to the grid.
A carbon zero, wheelchair accessible home
Project details
Client
Private client
Start date
June 2005
Completion date
Spring 2006
Gross Internal Floor Area
300sqm
Construction cost
£300,000
Project partners
Allsop LLP
E&M West