Projects
Cross Hayes
Malmesbury, Wiltshire
Extension, Listed Buildings, Refurbishment, Residential
Grade 2 Listed house refurbishment and extension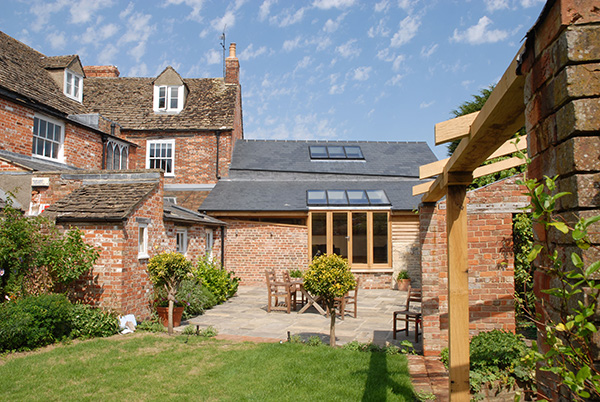 32 Cross Hayes is a Grade 2 Listed House in the centre of the historic town of Malmesbury. To the rear of the house there is a 19th century stone built extension which was built as a brewery, which in its turn replaced 3 cottages on this part of the site. The roof structure had been replaced in the mid 20th century with a corrugated asbestos sheet roof and the space has since been used as a garage.
Our brief was to obtain Planning Permission and Listed Building Consent to replace and raise the roof to create a large new living room for the house over a retained garage. The opening for the garage needed widening to give better access for vehicles.
The Conservation Officer would only allow minimal alterations to the existing masonry structures; this allowed us to provide French doors with side lights to replace a window and door to the garden elevation and the widening of the garage doors with new purpose made sliding oak doors. The new walling at the rear was constructed over the existing masonry in timber and glass, with rooflights included in the rear slopes to maximise natural light to the living room. A step was created in the roof at the rear to reduce the bulk of the extension and to relate to the massing of the existing house. The raised wall on the street side was designed as a continuous ribbon of glazing with external louvres, to match other Listed Buildings in Malmesbury. The new roof structure was constructed in green oak with a purpose made oak and steel truss at ridge level.
A frameless glazed link joins the new living room with the remainder of the house.
Internally, the new living room is highly insulated and airtight with underfloor heating and a wood burning stove with a ducted air supply.
Grade 2 Listed house refurbishment and extension
Project details
Client
Private Client
Start date
October 2012
Completion date
June 2013
Gross Internal Floor Area
215 sqm
Project partners
Cheltenham Woodcraft