Projects
Commercial Street
Gloucester
Extension, Low energy, Refurbishment, Residential
Extension and alterations to a house in the heart of Gloucester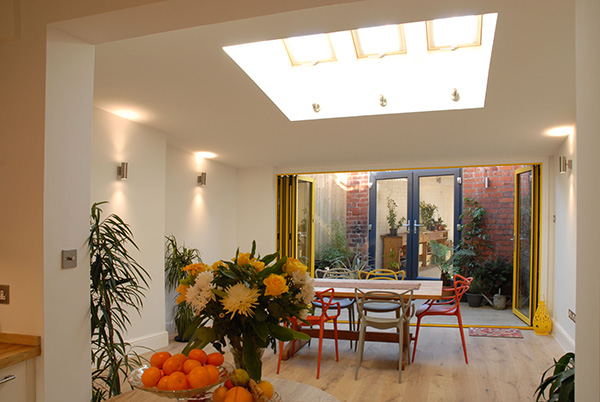 This project is located in the heart of Gloucester's historic centre near the line of the old roman wall. The existing building consists of 2 shops with accommodation over and outbuildings at the rear. The owners had previously converted the two maisonettes over the shops into a single large dwelling with the limited outside space at the first floor (living room) level of a small flat roof adjoining a rear extension which housed the bathroom.
Shortly prior to being appointed, an arson attack on one of the outbuildings left this in a rather parlous condition but gave the owners some insurance money which was used partly to restore the shell of the outbuildlng and partly to remodel the residential part.
The strategy was to move the bathroom to 2nd floor level by converting a bedroom at the rear, which also allowed a new corridor at this level to connect the two parts of the house.
The first floor bathroom was demolished and a new kitchen/dining area was created at the rear with bifolding doors leading to a small patio garden which provided a new link to the first floor outbuilding, which was converted into a simple top lift workshop space.
The new construction was insulated to levels far in excess of Building Regulations current at the time of construction and Photovoltaic panels were installed on the roof. Triple glazed rooflights provides high levels of natural light into the new dining/kitchen area.
The interior used a palette of light cream walls & ceilings, oak floors and coloured joinery and furnishing to utterly transform the spaces.
Extension and alterations to a house in the heart of Gloucester
Project details