Projects
Butt House
Painswick, Gloucestershire
Extension, Listed Buildings, Low energy, Residential
Grade 2 Listed house extension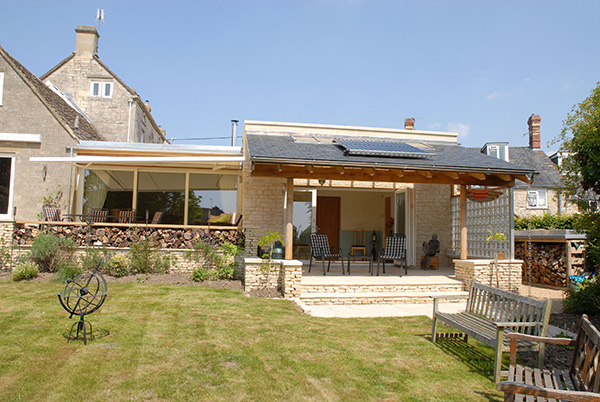 Butt House is a Grade 2 Listed house on the edge of Painswick, a compact stone built town in the Cotswolds. The initial brief was simply to replace an existing dilapidated garage and greenhouse with a new double garage, a garden room at the rear including a veranda overlooking the garden. This was to have a façade in ashlar Cotswold stone with other elevations in random stone, to reflect that façades of the house.

Subsequently it was proposed that the gap between the garage and house could be infilled to create an extension to the main living room with a terrace linking to the veranda of the garden room and the back garden itself. This would give both more privacy to the back garden and a more consolidated front entrance to the house.

The Conservation Officers were able to support this by the proposal to give the link the appearance of a dry stone garden wall, albeit that this is the outer leaf of traditional cavity wall! The two occupied rooms in the extension were heavily insulated from the inside to minimise cold bridging, with 130 – 150mm solid insulation boards to the floor, external walls & roof. The inside aluminium faces of these boards were taped at the joints to give a high level of airtightness.

The veranda provides shading to the garden room; a retractable awning blind with 3.5m projection shades the terrace and living room, both from high summer sun and low winter sun.

Solar thermal panels on the veranda roof contribute to hot water production in summer, and a wood burning stove with a room sealed air supply assists with heating the living room in winter. Both the living and garden rooms have underfloor heating connected to the existing gas central heating system. As part of the contract works, the original gas boiler was replaced with a more efficient model.
Grade 2 Listed house extension
Project details
Client
Private Client
Start date
March 2012
Completion date
October 2012
Gross Internal Floor Area
60sqm + external works
Project partners
Cover Construction Ltd
E&M West